Obituary for Grace Virginia "Ginny" Macklin
Virginia "Ginny" Macklin
Oak Ridge, TN
Grace Virginia Walz Macklin, age 95, died Wednesday, May 23rd, 2018 at Canterfield Assisted Living in Oak Ridge, TN.
Called "Ginny" by most who knew her, she was born August 11, 1922 in New Jersey to Grace and Wilhelm Walz. She attended Yanticaw School in Nutley, New Jersey and graduated from Nutley High School. She entered a training program at Presbyterian Hospital in Newark, New Jersey to become a nurse. After receiving her Registered Nurse (RN) certification, Ginny was employed at the same hospital as the night supervisor's assistant and took classes toward a B.S. in Nursing at Rutgers University, but she did not finish because the government wanted her moved to Oak Ridge, Tennessee to take a nursing job at the Oak Ridge Gaseous Diffusion Plant (K-25) operated by Union Carbide Corporation. This job had been arranged through efforts of Richard Macklin (the former roommate of Virginia's brother Norman at Yale University), who was already working at K-25.
Ginny's first K-25 job interviewer was apparently concerned about security aspects, in that one set of her grandparents were German and that her father came over from Germany shortly before World War I. He asked Ginny if she would shoot her [German] grandparents. She replied "No" emphatically and stressed she was a nurse. She apparently was initially rejected for work, but a higher official intervened and asked what her grandparents did in Germany. She explained that her grandfather had been a Methodist minister and her grandmother had been a typical minister's wife and that based on knowing her father's character, her grandparents had raised their children well. This official asked about her philosophy of nursing and she said it was her duty to help people and not injure them. She said that when a nurse gives someone a shot, they might hurt for a bit, but it helped them long term. The official concluded that she would make a fine nurse at K-25 and approved her employment, so she started work on April 25, 1945.
Virginia remembered first coming from Knoxville to K-25 on a bus and passing a pond with something sticking up and thinking "they must be making submarines" (until she learned the ponds were only 12 feet deep). Virginia had had black classmates and friends at her schools in New Jersey and was surprised by the "whites only" and "blacks only" restrooms and water fountains she encountered at K-25 and she observed that most African Americans seemed to be working in less well-paid mostly "housekeeping" jobs.
Ginny worked in the main K-25 medical department for a period, then headed a first aid station for one K-25 building, and finally became the public health nurse for all of K-25. She had to visit folks who had called in "sick," but she didn't enjoy having to look in their closets and report if they appeared to have been binge-drinking over the weekend --- for which they would be immediately terminated. Virginia wished there had been a rehab program for those ones as she understood that most workers were cut off from their families and could get depressed. She saw one patient who had already been to a doctor for a rash but Ginny recognized it as "shingles" and said to see the doctor again. That doctor told Ginny if she ever wanted to become a doctor, he would recommend her as she was a very good diagnostician.
Ginny was impressed how people from all over the country --- north, south, east and west --- meshed and realized they were all in it together as Oak Ridgers, and became fast friends and would organize hikes and trips with each other. Virginia married Richard "Dick" Macklin in 1945 and they had four children, Carol, Roger, Donald, and Linda (born in 1947, 1949, 1951 and 1954). Ginny was a homemaker for many years, but found time for activities such as running the International Kitchen for the American Association of University Women (AAUW), serving as a "den mother" for a Cub Scout Pack, and forming a ladies group to hike to fire towers in east Tennessee. She also started a petition that saved the hillside garden at Jackson Square, thereby preventing the extension of Central Avenue to connect into Jackson Square.
The family lived in England for a year in 1960-61 and Virginia enjoyed meeting many people from various countries. The family got to visit Europe over part of one summer. Ginny was able to visit her grandfather's former Methodist church in Ebingen, Germany, where her father had been born, and she was able to see the record of her father's baptism.
On the family's return to Tennessee, many visiting international scientists came to work with her husband at Oak Ridge National Laboratory, often living in Oak Ridge for a year and bringing their families. Ginny befriended the scientists and their wives and children and she was always eager to learn about their countries and cultures. These visitors came from countries including Australia, the Netherlands, England, Germany, and Japan. She made many lifelong friends and kept in touch with them over the years. Ginny and Dick and family, along with the visiting scientists' families who came to Oak Ridge, enjoyed hiking the trails, picnics and camping in the Smoky Mountains and the Cumberlands, canoeing on Melton Hill Lake, or just playing badminton in the Macklins' back yard.
Once the children were off to college, Ginny and Dick were free to travel more, spending three months near Paris, France, followed by a month of rail touring around central Europe. On subsequent return to Tennessee, Ginny wanted to finish a Bachelor's degree and continued her education at Lincoln Memorial University in Harrogate, Tennessee, earning a B.S. in Social Work.
Ginny's husband Dick retired from Oak Ridge National Laboratory in 1990 and they traveled together extensively, ranging from garden tours in Virginia to Canada, Alaska, Hawaii, Japan, China, Tahiti, Australia, New Zealand, Norway, Sweden, Denmark, and many countries in Europe, South Africa, Brazil, Argentina, and Antarctica.
Virginia was active in the First United Methodist Church in Oak Ridge and took a several week course to become a Stephen Minister. Both Ginny and Dick served as volunteers with the Contact helpline.
The family wishes to express our thanks to the staff at Canterfield Assisted Living for the care they have given both Virginia and Richard (Ginny and Dick) during their years of residence at Canterfield.
Ginny was loved and will be missed greatly, especially by her family.
She was preceded in death by her parents, Grace Ings Walz and Wilhelm Walz, and brothers Norman, John "Jack," and William Walz, and her husband Richard "Dick" Macklin who died January 21, 2018, also at Canterfield Assisted Living in Oak Ridge. She is survived by her younger sister Betty Dalhoff and husband Frank of Yantis, TX; her children, Carol Anderson and husband Charles of Arkadelphia, AR; Roger Macklin of Oak Ridge, TN; Donald Macklin of Oak Ridge, TN; and Linda Macklin of Oak Ridge, TN; and her grandchildren Andrea Callicutt and husband Scott of Raleigh, NC and Gwenmarie Ewing, currently of Dublin, Ireland. Surviving nieces and nephews include Dick Walz and wife Sarah of Northampton, MA; Bill Walz and wife Viria of Ambler, PA and daughter Jenn Reinfurt and husband Jon and daughter Chloe of Audubon, NJ; John Walz, wife Kathleen and daughter Caroline of Mount Tabor, NJ; Peggy Galdi and husband Gary of Vero Beach, FL; Debbie Gaither, husband Rod and daughters Amanda and Emily of Oak Ridge, NC; Mark Dalhoff and wife Brandi of Nacogdoches, TX; and Kathy Jackson, her son Branden (and wife Jamie and children Alyson, Jack, and Maggie), her son Shaun (and wife Jenni and children Hayley and Logan), and her daughter Heather Broome (and husband James and children Katie, Avery, and Cayden), all of Tyler, TX; as well as Susan Vollmer and husband Dennis of St. Thomas, US Virgin Islands; Steven Macklin, wife Sue, and daughters Alexandra, Laura, and Jordan of Kalaheo, HI; Peter Macklin, wife Jennifer and daughter Taylor and son Patrick of Hamilton, OH; Douglas Macklin and son Tai and daughter Robin of Haiku, HI; Eric Macklin, wife Jennifer, and sons Graham and Andrew of Wayland, MA;
There will be a memorial service/celebration of life at a future date yet to be determined, in the sanctuary at First United Methodist Church, Oak Ridge, TN with Rev. Jenny Caughman officiating. Visitation with the family will be held in the church parlor immediately following the memorial service. An online guest book may be signed at weatherfordmortuary.com
In lieu of flowers, donations may be made in her memory to:
Aid to Distressed Families of Appalachian Counties (ADFAC)
P. O. Box 5953
Oak Ridge, TN 37831-5953
or
First United Methodist Church,
1350 Oak Ridge Turnpike
Oak Ridge, TN 37830
To send flowers or a remembrance gift to the family of Grace Virginia "Ginny" Macklin, please visit our Tribute Store.
Memorial Contribution
ADFAC (Aid to Distressed Families Appalachian Counties
PO Box 5953
Oak Ridge, TN 37830-5953
PO Box 5953, Oak Ridge, TN 37831-5953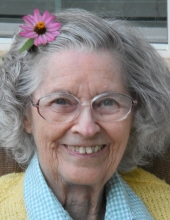 Thank you for sharing your
memory of Grace
Provide comfort by sending fresh
flowers from our local florist.
No thanks, please don't show me this again.